This site contains affiliate links. Please see Disclosure Policies for more information.
The collection of the best Valentine's Day Cake Pop Ideas creates some of the most beautiful and delicious bite-sized desserts you'll ever taste. Treat your loved ones to any of these easy to make festive cake pops and you'll never reach for that heart-shaped box of chocolates again.
Best Valentine's Day Cake Pop Recipes
This year, say Happy Valentine's Day with something a little bit different than traditional flowers or candy. These homemade cake pops are decadent bite-sized desserts that are the perfect recipe for kids to help with, and they're so much fun to eat! Wrap them up in clear cellophane bags and they make the perfect Valentine's Day for your special someone.
With this collection, there several different scrumptious flavors of cake pops to choose from. Whether it's vanilla, chocolate, red velvet or something with a bit of a fun twist, these recipes will not disappoint. There's even an adult-only bourbon cake pop recipe included!
💓Why We Love Cake Pops
Easy: Though you can make them with scratch-made cake, most cake pop recipes are made with cake made from a boxed mix and store-bought frosting.
Beautiful: The cake pops are coated in vibrant colored melted chocolate and decorated with pretty festive sprinkles.
Fun: Cake pops are easy, cute, super fun to eat and are the perfect bite-sized portion!
🔪 Recommended Tools
There are many different variations of cake pops you can choose from here. While the instructions may not require some of these kitchen tools, this list will give you a general idea of what is typically needed.
Wire rack-to place the round cake balls on to dry
Sheet pan-for transferring the cake balls to the fridge or freezer
Good selection of sprinkles- in different fun shapes and colors that will make pretty decorations on the cake pops
Electric mixer-you can usually just use your hands to combine the cake mixture, but some prefer to use a hand mixer or a stand mixer with the paddle attachment
Large mixing bowl-to mix together the cake crumbles, frosting or other ingredients
Microwavable bowl-for melting chocolate wafers or candy melts
Wilton candy melts-or any of your favorite brand of chocolate candy coating to dip the cake pops in
Small cookie scoop-helps you to make even ball shape pops
Foil lined styrofoam block-once you have dipped the pops in chocolate, stick the individual pops into the block so they can dry smoothly.
1. Valentine's Day Cake Pops
These Valentines Day cake pops are a sweet treat for your kids or friends. They're so much fun and make a simple treat that will be the hit of any Valentine's party.
Get the Recipe
2. Starbucks Copycat Vanilla Cake Pops Recipe

These adorable pink cake pops are the perfect Valentine's Day treat. Decorated with little white sprinkles, they're cute and flirty, great for sharing with your loved ones!
Get the Recipe
3. Sugar-Free Keto Cake Pops
This keto cake pops recipe is sweet, moist, fluffy, and fudgy, with 3g net carbs. Sugar-free cake pops are a must for your next celebration!
Get the Recipe
4. Valentine's Cake Pops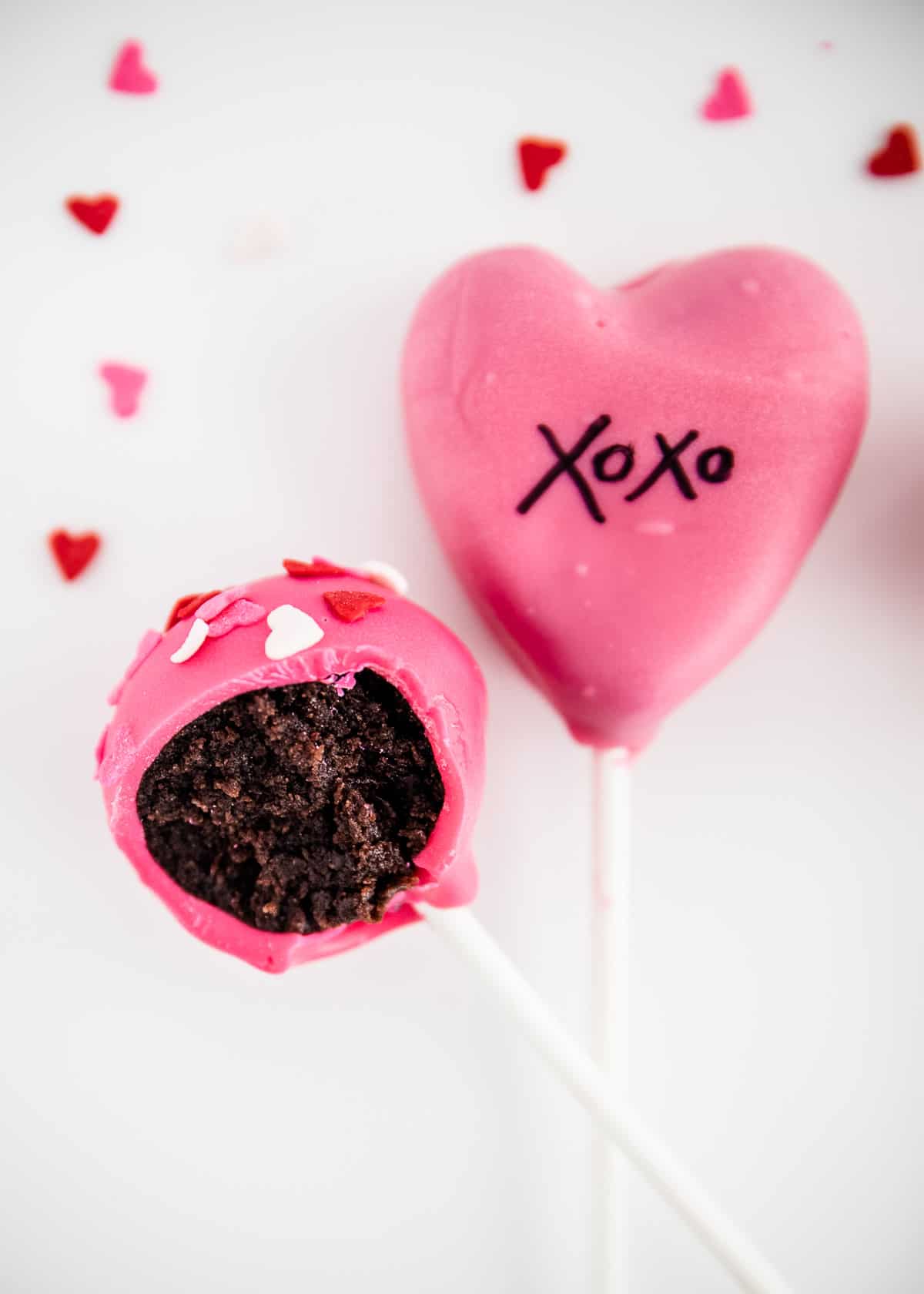 A cake pop bouquet is a simple and fun way to make an edible arrangement everyone will love! Cake pops are an easy no-bake dessert on a lollipop stick the whole family can get involved helping you to make. These are perfect for sharing with your valentine, for a bridal shower or wedding dessert table, baby showers, holiday parties, and birthday parties!
Get the Recipe
5. Red Velvet Bourbon Cake Balls
Red velvet cake balls spiked with bourbon, dipped in white chocolate and decorated with sprinkles. They make a delicious and festive Valentine's Day dessert. Add them to a cookie stick and create the perfect cake pops for a special gift, Valentine's party or just a sweet treat for your special someone.
Get the Recipe
6. Donut Hole Cake Pops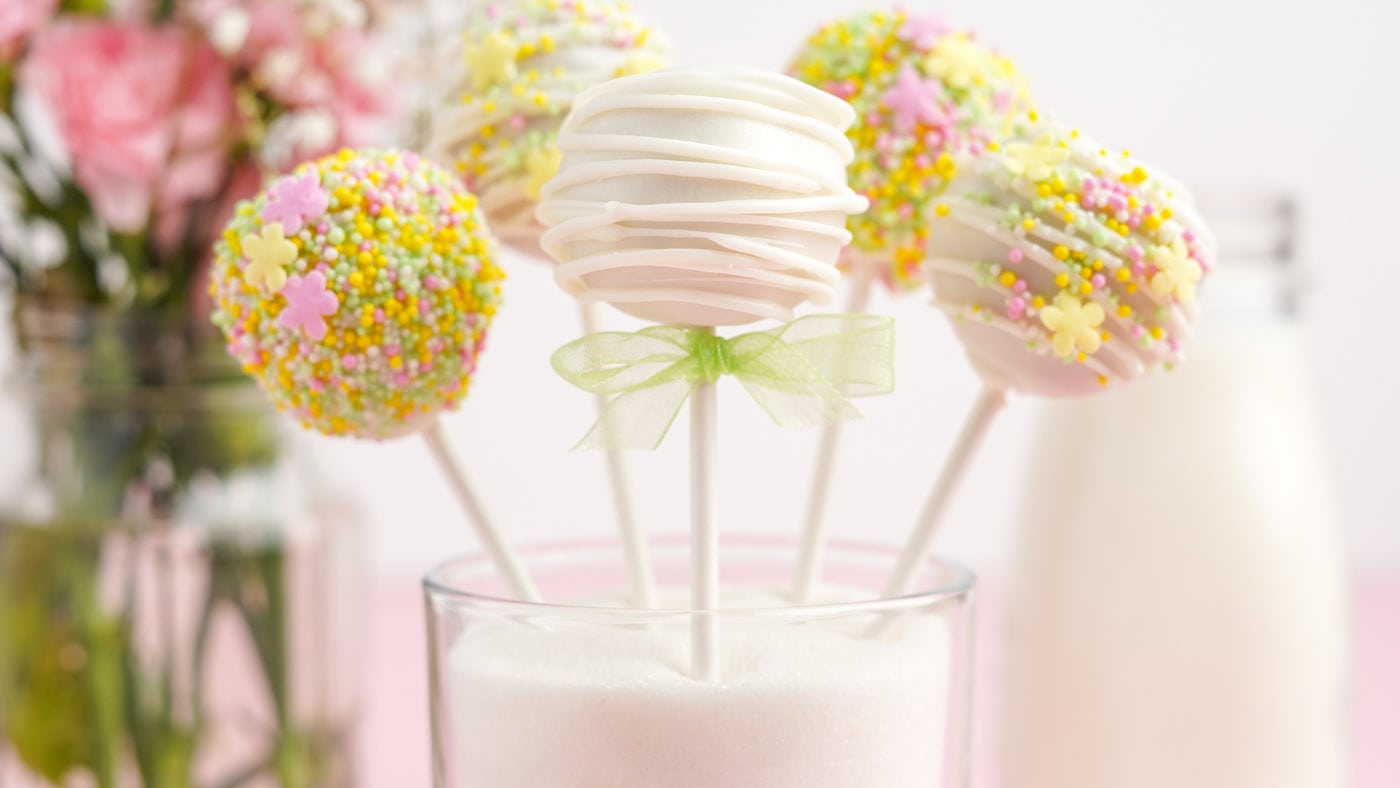 These pretty donut hole cake pops are made with store-bought donut holes dipped in white chocolate. They're quick and easy to make and will be ready to be served at your party in no time!
Get the Recipe
7. Chocolate Cake Pops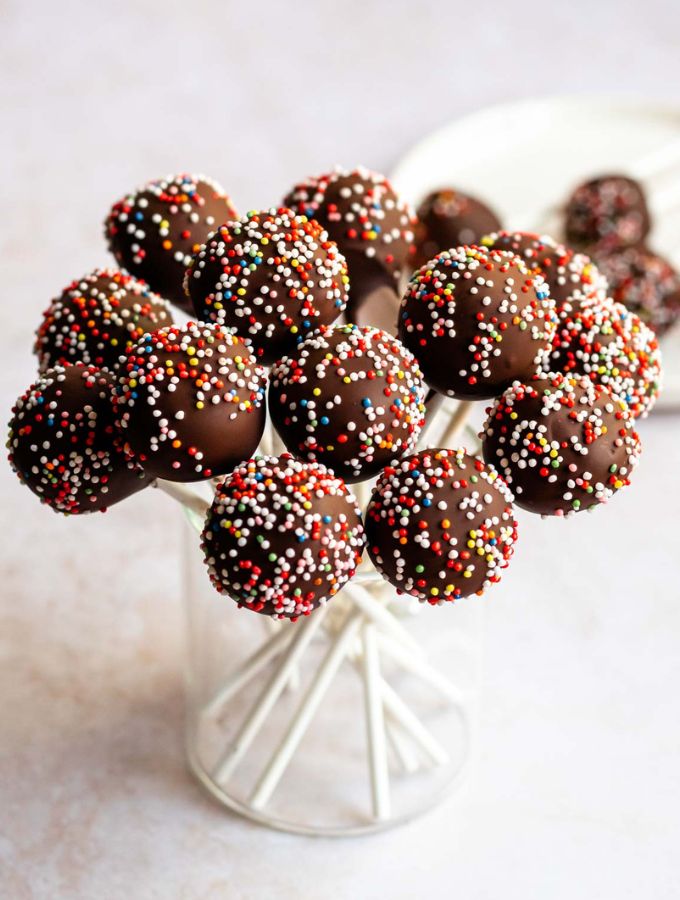 These chocolate cake pops are made with a simple and moist chocolate cake and chocolate frosting. Then they are covered with melted chocolate and topped with sprinkles
Get the Recipe
8. Conversation Heart Marshmallow Pops
Chocolate-dipped Conversation Heart Marshmallow Pops are easy enough for kids to make and absolutely adorable Valentine's Day theme gifts!
Get the Recipe
9. Lotus Biscoff Cake Pops
A heavenly combination of Biscoff Cookies, mascarpone, and sugar assembled to a delicious, no-bake, cake pop with milk chocolate coating. Perfect for snacking together on Valentine's Day or a bite in between.
Get the Recipe
10. Valentine's Day Cake Balls in the Cake Pop Maker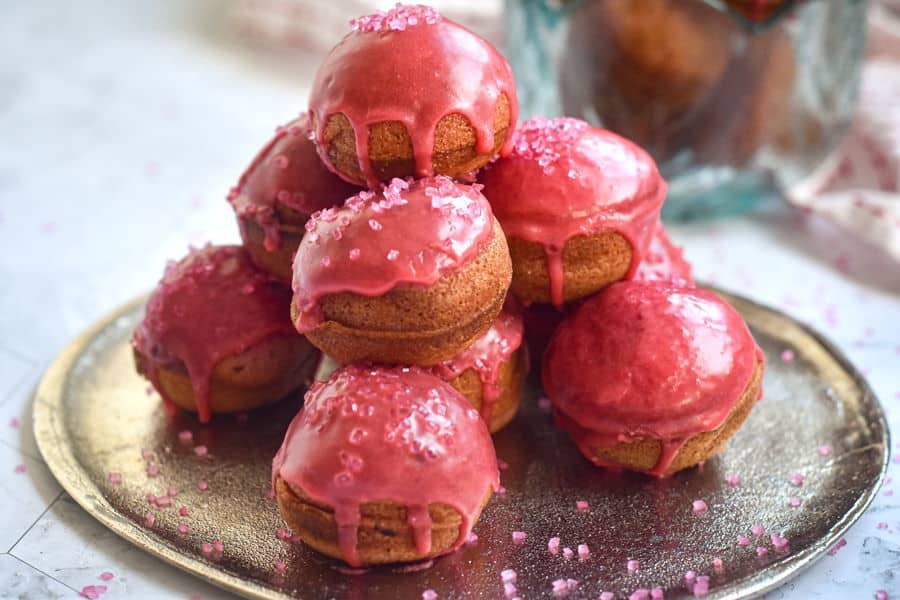 These Valentine's Day cake balls are made with a cake pop maker using a simple vanilla cake dyed pink and red glaze with pink sprinkles. They're perfect for when love is in the air.
Get the Recipe
11. Starbucks Strawberry Cake Pops Copycat Recipe
Strawberry cake pops are rich and delicious. The combination of cream cheese frosting and strawberry cake does not disappoint. The cake pops are dipped in white candy melts and topped with sprinkles.
Get the Recipe
12. Red Velvet Cake Pops
Try Red Velvet Cake Pops for a delicious treat in minutes with step-by-step instructions. From the decadent cake to the cream cheese frosting, this recipe does not disappoint.
Get the Recipe
More Fun Valentine's Day Recipes
What's For Dinner?
Find a recipe for dinner tonight! Get our Top 10 Most Popular recipes ebook sent right to your email.