How to Build a Charcuterie Board
There's no better appetizer for special occasions than a charcuterie board. In this guide we'll show you step-by-step how to build the ultimate charcuterie board your guests will love.
A charcuterie board is just a fancy French word that refers to cured meat and cheese served on a big board or platter. They come in all shapes and sizes, they look beautiful on any party table, and they're a great way to ensure that you have something for everyone.
If you've never built a charcuterie board before, the holiday season is the perfect time to give it a try. It's incredibly easy to build a beautiful charcuterie board that your party crowd will love, but there are a few general guidelines you should follow.
Read on for a step-by-step guide that will make you a charcuterie board pro. You'll be building crowd-pleasing, delicious, and Instagram-worthy DIY charcuterie boards in no time!
General Tips to Build a Charcuterie Board (Learn to Make a Charcuterie Board)
These days, you can find dessert boards, breakfast boards, and even candy boards, but I think nothing beats the classic charcuterie board. We'll start with a few general rules of thumb that will give your boards plenty of visual appeal and make them the perfect appetizer for your party.
Use a Variety of Different Textures and Colors – Variety is key when it comes to building your own board. Choose cheeses in different shapes and colors, and add some pops of color with fruit like dried apricots and cherries. Choose some round and square cracker varieties and add some long, thin items like cheese straws or bread sticks. Having a rainbow of colors and lots of different shapes gives your board tons of visual interest.
Have Plenty of Options – If you build a great board, it can be the only party appetizer you'll need, so make sure you have options for everyone. Meat and cheese make a great base for your board, but be sure to include some plant-based options and some healthier choices as well. Olives, nuts, breads, and jams are great vegan options, while fresh fruit and veggies are ideal for those looking for a healthier choice.
Fill All Available Space – Don't be afraid to pile your board high. In fact, I highly recommend it. A general rule of thumb is to make sure that the board is so packed with delicious food that you can't see the surface except for a small border around the edge. This is another key to creating an appetizing and visually appealing board.
Materials Needed to Build the Best Charcuterie Board
serving board
small dishes like ramekins
toothpicks
Choosing Your Board
Now that you know the basics, it's time to select the surface for your board. You can use just about any flat surface, including a large cutting board, a serving tray, or even a marble or slate slab if you want to get extra fancy. I like to stick with basic shapes like rectangular or oval surfaces, and I generally prefer a basic wooden board. If you don't have a flat board, you can always use a serving platter.
Planning
Next, it's time to make a visit to the grocery store, so you'll want to have a basic idea of how much food you'll need to buy. I like to get odd numbers of meats and cheeses, and I find that 3 of each works well for most party boards, although you might go with 5 for a really large board or if you're serving it as a main course.
Next, I'd recommend 3-4 different kinds of crackers and several mini jars of things like jam, honey, or spicy mustard. I'd recommend at least one type each of olives, nuts, and dried fruit, then grab your favorite fresh fruit and veggie varieties too.
Place Your Meats and Cheeses
Meat and cheese should be the focal points of your charcuterie platter, so I like to place these larger elements first, then start arranging. For the cheese, go with a mixture of hard and soft types of cheese and milder and sharper-flavored options.
You might try an aged cheddar with a dill Havarti and a creamy brie, or a Manchego with a smoked gouda and a soft goat cheese or a blue cheese. You should leave soft cheeses intact and place some cheese knives on the board for slicing, but you may want to cut the hard cheeses into slices or smaller squares to make serving easier for your guests.
Meat for a Charcuterie Board
It's great to include an assortment of meats such as:
Prosciutto
Salami
Chorizo
Coppa
Soppressata
Pancetta
Capicola
Bresaola
Mortadella
Duck or goose pâté
There are a variety of slices of meats that are perfect for a charcuterie board. Some of my favorites are hard salami, prosciutto, Serrano ham, or summer sausage. Space the cheese out evenly on your board, and place one of the meats near each of the cheeses. You can get creative and fold meat for a charcuterie board. Some fold them into flowers. Once you've got the meat and cheese on the board, place any other large items, like bunches of grapes or apple slices.
Add Jars and Bowls
Next, I like to add anything that will be served in jars, bowls, or ramekins. This would include things like mini jars of honey, jam, pepper jelly, and whole grain mustard, which you can serve with little spoons.
Place your olives and nuts in little bowls or ramekins and distribute them evenly throughout the board in remaining spaces. I like to get one variety of salty nuts, such as Marcona almonds, and one variety of sweet, like candied walnuts or pecans.
Add Breads and Crackers and Nuts
Don't make the mistake of running low on bread and crackers or nuts. You'll want to have at least one piece of bread or cracker for each piece of meat or cheese on the board. Slices of French baguette are a classic choice, and they taste great with everything.
I also like to include one basic cracker variety, like a Ritz cracker, and something with a more interesting texture and shape, like hard breadsticks, cheese straws, or even pretzel rods. It's also a good idea to have one variety of mini crackers.
Nuts we like to use:
Almonds
Cashews
Pistachios
Pecans
Walnuts
Hazelnuts
Add Dips and Spreads
There are many premade and homemade options for spreadable flavor on a board. These enhance the flavors of the cheeses and meats.
Fill the Empty Spaces
Depending on. your board size, if you've got any gaps on your board, now is the time to fill them. I love to save a little bit of dried fruit or fresh berries for this purpose. They're small, so it's super easy to just toss them in any size or shape gap that you need to fill.
You can also add a bit of garnish or decoration to help with this last step. Place a few sprigs of rosemary or other fresh herbs, some sugared cranberries, or a few edible flowers around the board. You could even use mini pumpkins or candy canes for a holiday board.
And there you have everything you need to build a charcuterie board that looks as amazing as it tastes. If you've never tried this versatile appetizer before, give it a try this holiday season. There's no wrong way to build your board, so get creative and have fun with it.
Unique Charcuterie Boards
Now that you know how to build the perfect charcuterie board, here are a few creative ones to give you a little inspiration:
1. Fall-Themed Charcuterie Board
Entertain your friends and family this Fall season with a beautiful charcuterie board filled with cured meat, nuts, dried fruit, jam, cheeses, & chocolate. It's easy to make, fun to eat, and delicious!
Get the Recipe Here
2. Butter Board with Bacon Butter
This Butter Board with Bacon Butter features toppings like dried fruits, nuts, and honey for an easy, savory butter charcuterie board. It's easily customizable and perfect for entertaining!
Get the Recipe Here
3. Italian Antipasto Charcuterie Board
Entertain with a simple Italian antipasto Charcuterie Board! This platter is so delicious, easy to put together, beautiful to look at, and fun to eat!
Get the Recipe Here
4. Spring Charcuterie Board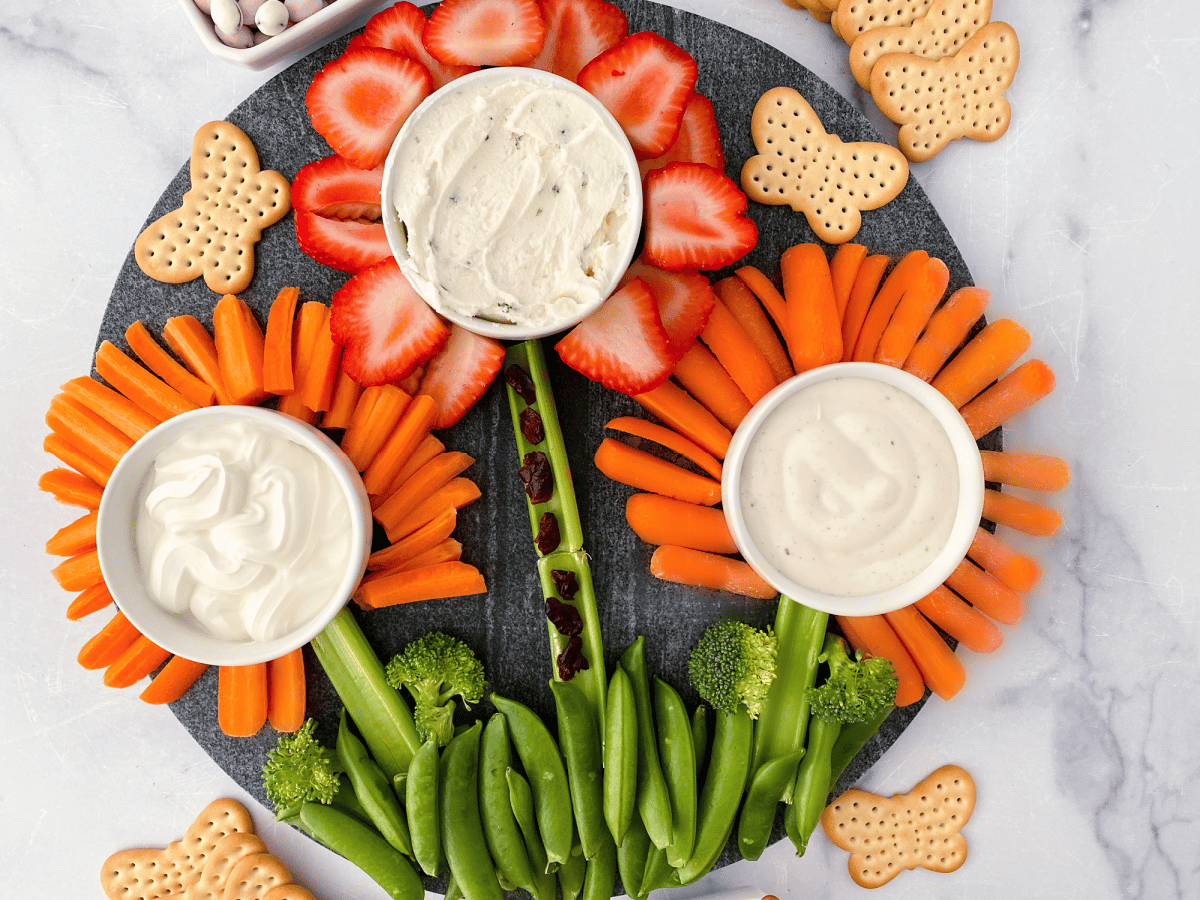 Celebrate the awakening of Spring with this Blooming Springtime Charcuterie Board made with fresh fruit, vegetables, dips and healthy snacks.
Get the Recipe Here
5. Meat and Cheese Board – Easy Brie Charcuterie Board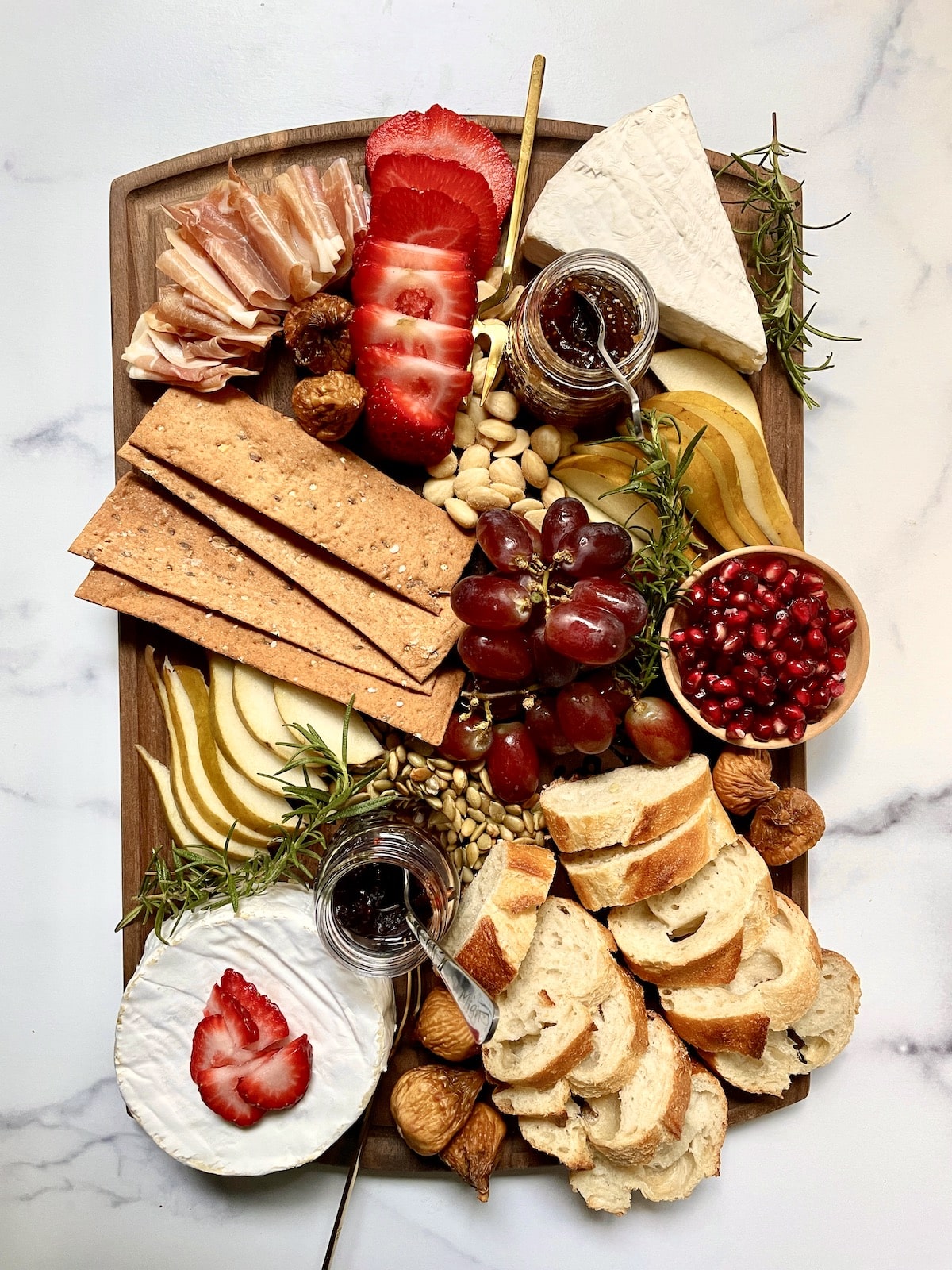 With this charcuterie board idea, a wheel of brie is arranged with an array of other delectable snacks that have an irresistible combination of tastes and textures.
Get the Recipe Here
6. The Perfect Summer Cheese Board
This recipe shows you how to make a perfect summer cheeseboard in just 10 minutes, including food styling tips for a stunning board!
Get the Recipe Here
7. Charcuterie Board for Kids
Your little ones will come running when you serve this fun Kids Charcuterie Board! From pigs in a blanket to pizza rolls, it's got all their favorite snacks!
Get the Recipe Here
8. Easy Breakfast Charcuterie Board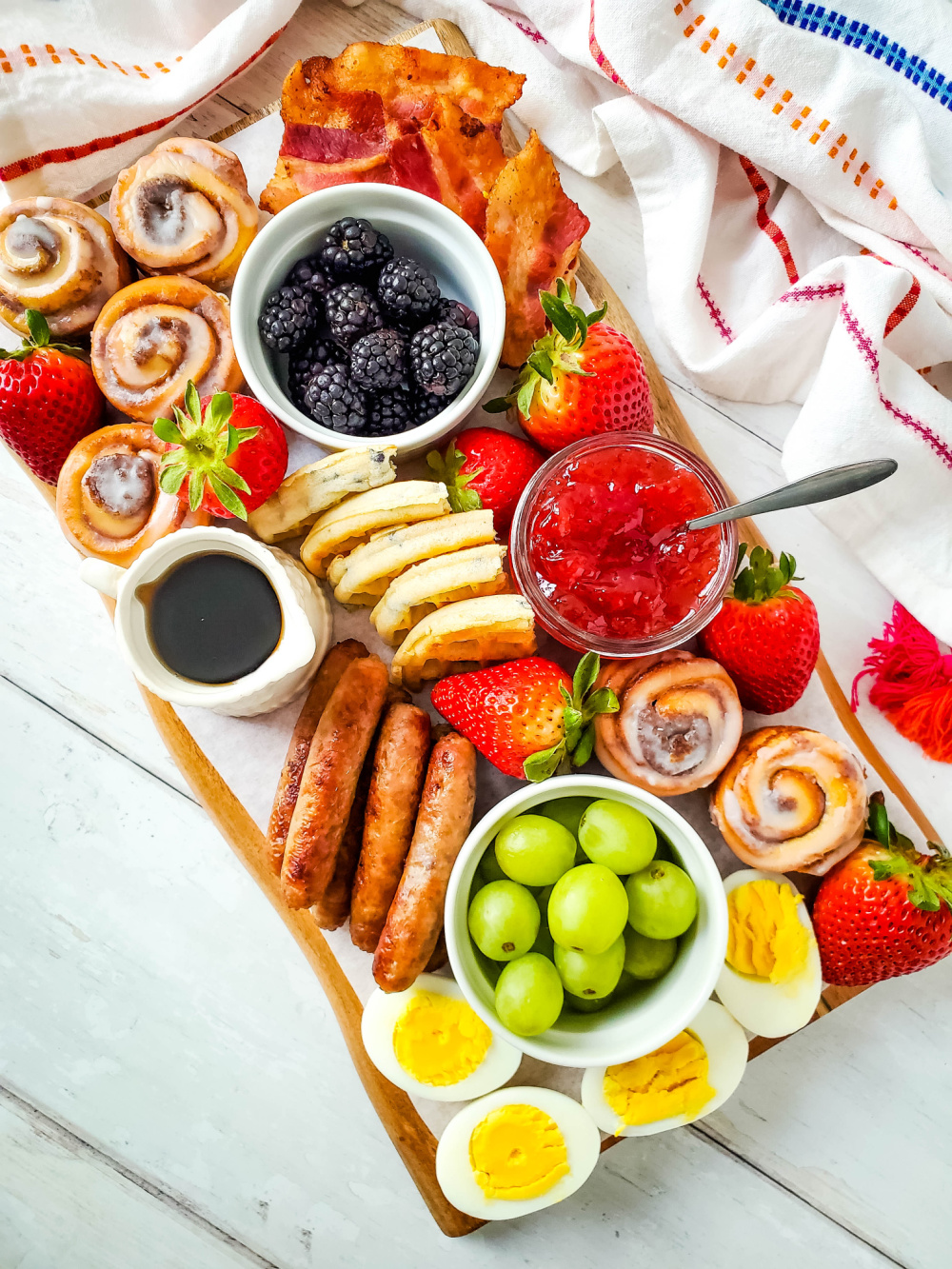 Start the morning off right with this Easy Breakfast Charcuterie Board that has an assortment of sweet and savory items that surely keep your taste buds happy.
Get the Recipe Here
9. Hot Chocolate Charcuterie Board
A Hot Chocolate Charcuterie Board is a fun and gorgeous way to serve and showcase hot cocoa at your next party! It's easy to personalize and create
Get the Recipe Here
10. Chocolate Dessert Charcuterie Board
This gorgeous charcuterie board is a Chocolate Dessert Charcuterie Board that includes a chocolate roll recipe and tips on how to make a chocolate board!
Get the Recipe Here
11. Date Night Dessert Board
Make this easy, adorable, and delicious dessert board for your next romantic night.
Get the Recipe Here
12. Pavlova Grazing Board
You've seen charcuterie boards, you've probably seen dessert charcuterie boards…but have you ever seen a Pavlova Dessert Charcuterie Board?
Get the Recipe Here
Tips for Arranging a Charcuterie Board
Start with a variety of textures and flavors – include a mix of meats, cheeses, fruits, nuts, and spreads to create a well-rounded board.
Group similar items together – arrange the meats in one area, the cheeses in another, and the fruits and nuts in separate sections to keep flavors from mixing too much.
Use small bowls and ramekins for spreads and jams – this will keep them contained and make it easier for guests to access them without making a mess.
Create a visual balance – spread out the different items evenly across the board and consider adding greenery or fresh herbs for a pop of color.
Don't overcrowd the board – leave some empty space for guests to easily grab items without knocking anything over, and make sure to provide small utensils for spreading and serving.
Make the Best Charcuterie Board Top Tips
Here are helpful tips to make the best charcuterie board.
Start with a variety of meats – include a selection of different cured meats. This will add depth and different flavors to your board.
Add cheese – complement your meats with a variety of cheeses, such as brie, cheddar, and gouda. Choose different textures and flavors to create a well-balanced board. You can even include soft cream cheese with a spreading knife.
Include some fruit: add fresh or dried fruits such as grapes, figs, or pears to add a contrasting sweetness to the savory meats and cheeses.
Add some crunch – include some crispy items like nuts, breadsticks, or crackers to add texture to your board.
Add spreads – include some savory spreads such as mustard, honey, or jam to complement the flavors of the meats and cheeses.
Consider the presentation – arrange your items on a wooden board or platter, and try to keep things visually appealing by arranging items in different shapes and sizes.
Don't forget the extras – we also like to add some olives, dill pickles, or marinated vegetables to add some briny flavors to your board.
Balance flavors and textures – try to create a mix of savory, sweet, and salty items on your board, as well as a mix of soft and crunchy textures.
Mix colors – Add some color to your board by including different colored fruits, vegetables, and cheeses to make it visually appealing.
Pre-cut items – make sure your cheeses and meats are pre-cut so your guests can grab and go.
Have fun with it – Get creative and have fun with your charcuterie board! There are no set rules, so don't be afraid to experiment with different flavors and combinations.
More Fun Charcuterie Boards
What's For Dinner?
Find a recipe for dinner tonight! Get our Top 10 Most Popular recipes ebook sent right to your email.